Już dziś zapisz się na nasz bezpłatny webinar, na którym dowiesz się więcej o ochronie firmy przed cyberatakami i zapewnieniu jej ciągłości działania oraz bliżej poznasz niezawodne rozwiązanie do tworzenia kopii zapasowych, jakim jest Acronis.
Why choose Acronis Cyber Protect from Direct IT?
Complete protection of any IT infrastructure:
Direct IT, with the help of Acronis Cyber Protect, can design and implement backup copies in your company, regardless of the complexity of the infrastructure or its size. Protect every bit of your data, no matter what technology you use or the amount of data you generate.
Professional Disaster Recovery plan using Acronis:
Z pomocą rozwiązania Acronis Cyber Protect  możliwe jest przygotowanie planu Disaster Recovery w Twojej firmie. Na podstawie oceny ryzyka i identyfikacji krytycznych zasobów biznesowych przygotowywana jest strategia tworzenia kopii zapasowych i ich odtwarzania dostosowana do możliwosci organizacji, skali jej działania oraz możliwych zagrożeń. 
Minimalny czas przestoju firmy
Thanks to the use of Acronis Cyber Protect as part of a well-prepared Disaster Recovery strategy, even in the event of large hardware failures and disasters, we are able to quickly restore the company's operations using servers in the cloud.
Kopia zapasowa Microsoft 365/Workspace (Cloud to Cloud – Bez obciążenia łącza)
A backup copy of the entire environment allows you to restore individual files, messages or emails.
Various recovery times:

Customisable RPO parameters for each key application and each dataset. Let's determine what is most important for your company.
AES 256 encrypted backup:
Kopie zapasowe są szyfrowane przy pomocy algorytmu do szyfrowania danych – AES 256, który został przyjęty przez National Institute of Standards and Technology jako standard. Obecnie algorytm ten jest uważany za jeden z najbezpieczniejszych, niemożliwy do złamania. Dzięki wykorzystaniu AES 256 możesz mieć pewność bezpieczeństwa danych
Blockchain certification:
Ensure the integrity of your data with innovative Acronis Notary technology, based on a blockchain that protects your files against attacks aimed at damage or forgery.
Cost optimization:
When designing a backup copy using Acronis Cyber Protect, our specialists help you to adjust the scope and advancement of the backup copy to the requirements of your company.
Monitoring, testing and optimisation:

Direct IT provides monitoring, testing and optimisation services for backup copies made using Acronis Cyber Protect. As a result, your company can be sure that the backups are safe and made in the most optimal way.
Store your data wherever you want::
Acronis Cyber Protect allows you to store your data locally on your servers or NAS devices, as well as in the cloud, in a data center located in Warsaw.
Ocena luk w zabezpieczeniach i wskaźnik #CyberFit
Thanks to the #CyberFit Score, Direct IT is able to monitor the security status of your company and act proactively in protecting against cyber threats.
With Acronis Cyber Protect, your company can be secured against data loss and become downtime-resistant
Every enterprise is at risk of losing critical data. Data loss can lead to costly downtimes, customer dissatisfaction, loss of profits or even statutory penalties. Direct IT helps your company to achieve an extremely high level of security and ensure business continuity.  
How does Acronis Cyber Protect work?
Acronis Cyber Protect is a reliable backup solution with extensive Disaster Recovery support for any business. It can protest any IT infrastructure environment and minimise downtimes at optimal costs.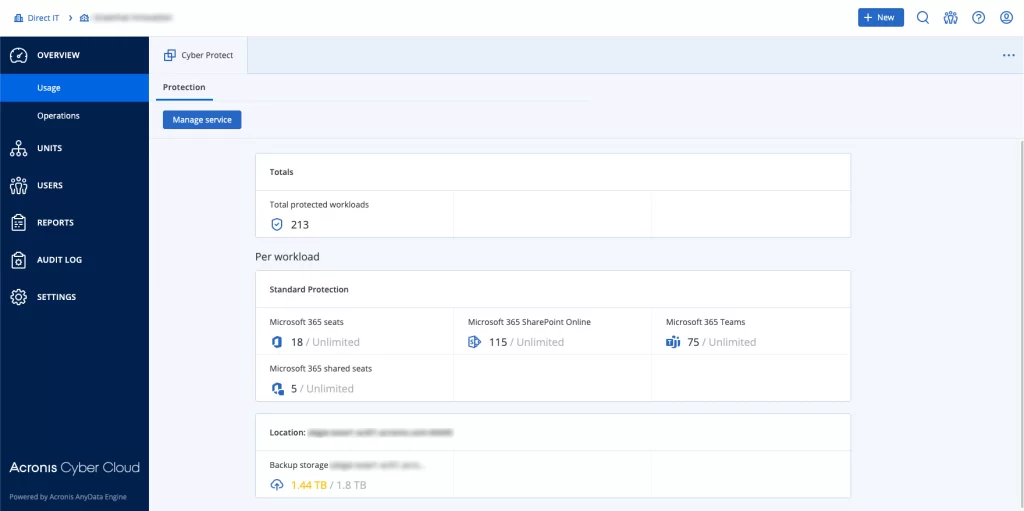 Physical environments
• Windows Server
• Windows Server Essentials
• Linux
Applications
• Microsoft Exchange
• Microsoft SQL Server
• Microsoft SharePoint
• Microsoft Active Directory
• Oracle Database
Cloud
• Microsoft 365
• G Suite
• Azure
• Amazon EC2
Virtual environments
• VMware vSphere
• Microsoft Hyper-V
• Citrix XenServer
• Red Hat Virtualization
• Linux KVM
• Oracle VM Server
Mobile devices
• iPhone, iPad
• Android
End devices
• Windows PC
• G Suite
• Azure
• Mac